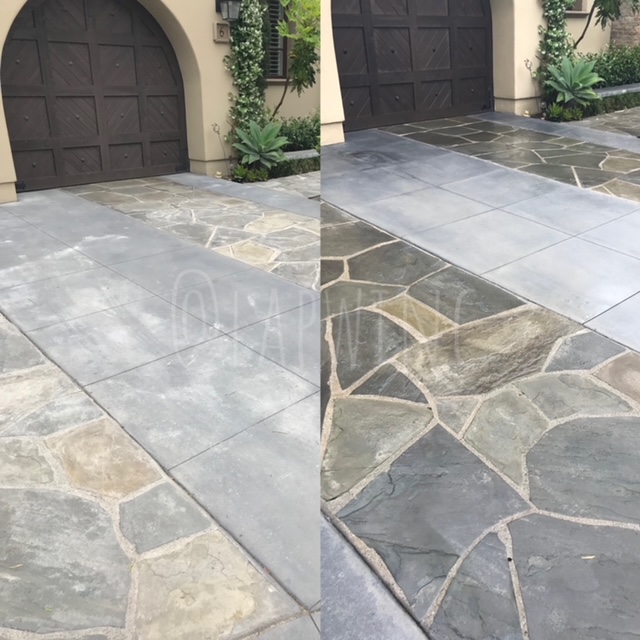 Your driveway doesn't have to be dirty. Call us for a professional driveway cleaning service!
Getting a driveway cleaning in Los Angeles is important! Your driveway gets used day in and day out, and over time it becomes noticeable. Whether it's your own car driving in and out of the driveway daily, or perhaps customers coming to your business, driveways naturally get dirty over time. Driveways can get stained from vehicles dripping oil, scuffed from tires, and build-up dirt on them. With enough use, your driveway can quickly become an eyesore.
The good news is that Los Angeles Pressure Washing Inc. can help you! Our pressure washing team are experts at power washing and have the state-of-the-art tools, experience, and knowledge to remove oil stains, algae mold, grime, and anything else on the surface of your driveway.
Some of the stains we can remove from your driveway surface include:
Algae
Oil Stains
Brake fluid
Tire marks
Transmission fluid
Rust stains
Hard water deposit stains
Asphalt
Paint markings
Grease stain
Mold
Mildew
Dirt and debris
Grime
Other chemicals
Our recommendation is that you contact us as soon as you notice any stains, but even long-standing stains can be removed with a powerful solution. Contact us today for a free driveway cleaning quote and we can discuss your driveway's surface and current state, and schedule a cleaning. We guarantee a quick response.
Call Now for a Driveway Cleaning Estimate
Are you ready to have a clean driveway? Contact us at (310) 200-8228 for a free quote. We deliver excellent service, a great price, and quick services. We not only offer residential pressure washing services, but also commercial services for businesses. Contact us now.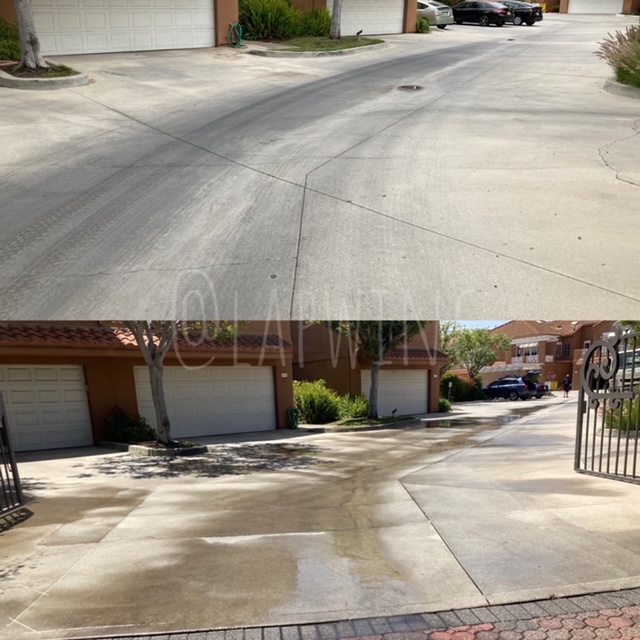 The Benefit of Hiring Driveway Cleaning Los Angeles Services
You could be thinking about pressure washing your own driveway yourself. But there are a number of advantages to hiring a professional driveway cleaner. Here are a few reasons why you should hire Los Angeles Pressure Washing Inc. for their driveway cleaning services.
Quick and Effective
The truth is that with our pressure washers and experienced power washing team we can do a driveway cleaning better and quicker than someone on their own. Concrete surfaces, pavers, brick surfaces, you name it…we have cleaned a driveway of that type. We can look at exterior surfaces, see what they're stained with, and use the right tools and cleaning agents to make them spotless and clean again. Gum or graffiti removal? Not a problem. Oil stains? Not a problem.
Driveway cleaning is what we do, and so we can ensure that we can carefully clean your driveway without damaging it in a fast and effective manner.
Safe and Damage-Free
Our driveway cleaning Los Angeles service guarantees that we won't damage your property or driveway. Our expert team knows which tools to use, the right cleaning solution, the perfect temperature, and pressure so as not to damage your driveway. If you're inexperienced in pressure washing and try to do your own pressure washing job, there's a good chance you could damage your property and potentially yourself. With Los Angeles Pressure Washing Inc. you can rest assured that no one will be hurt and your driveway will not be at risk of being damaged. Our careful techniques can clean surfaces without damage.
Save Money
Our driveway cleaning services are competitively priced and will save you money and time if you were to do your own pressure washing. Doing it yourself would require not only the time to clean the driveway, but you'd either need to purchase or rent a pressure washer. Save money by hiring us for your driveway cleaning.
Boost Curb Appeal
Without a doubt, having a clean driveway for your home or commercial property will boost its curb appeal. Whether you're inviting guests over for dinner or having clients visit your business you will want to make a great impression. Oil, debris, dirt, or grease stained on your driveway aren't the best look. Get a driveway cleaning to boost your curb appeal.
Driveway Cleaning Services Available In The Following Service Areas
Our driveway cleaning service company services clients all over Los Angeles and the greater Los Angeles area. We can pressure wash your concrete, brick, or paver driveway if your home or business is in any of the following cities that we service. If after looking through the list you don't see your city or area, please give us a call or email to see if we can provide driveway cleaning in your area. We offer pressure washing driveway cleaning in the following cities:
Contact Us For Driveway Cleaning Los Angeles Services
Reach out to us and our customer service team can answer any questions you might have about our driveway cleaning services.
Driveway Cleaning Services Available In The Following Service Areas
Our driveway cleaning Los Angeles company services clients all over Los Angeles and the greater Los Angeles area. We can pressure wash your concrete, brick, or paver driveway if your home or business is in any of the following cities that we service. If after looking through the list you don't see your city or area, please give us a call or email to see if we can provide driveway cleaning in your area. We offer pressure washing driveway cleaning in the following cities:
Pressure Washing Previous Projects